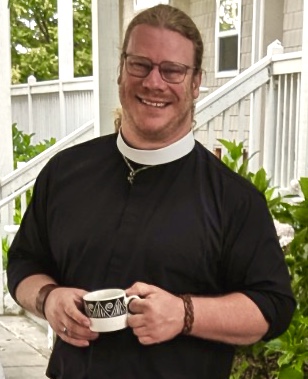 "Never Forget." This phrase is well-used and well-loved. The current most common use is for the remembrance of the deep tragedy that was 9/11/2001. To think that tragedy has now had 22 years between it and us is wild to my mind.
As I began to write this, the power went out at our house, and most of Fremont. Ugh. I wanted to do some research on my syllabus! Finish my emails and this blurb! PG&E then sends the text: "Power will be out until at least 6:45 p.m. "Well, I guess we're going out for dinner," I said to Gwyn, and we headed out to Cantaritos.
Then Gwyn and I ran into our friend Gael from Mission Coffee. As the Bills vs. Jets game began on TV (How is it Football season already?!), she told us about how they had found a pear tree at the base of the rubble of one of the twin towers, STILL ALIVE. They nursed it back to life and replanted it where it was found, where people are able to reap its fruit to this day!
This story blew me away. In the midst of copious tragic loss of life, destruction, rubble, fear, hatred, anger, this one tree survives. Even as people still are yet to be identified from the attacks that day, Life is present. It feels like a humble yet indefatigable reminder of the life at the core of who we are at our best.
9/11 is one of the most profound experiences I've ever had of unity in American diversity. It was a moment where the whole nation was truly united and indivisible: in its shock, its mourning, its anger, and love of what our nation has to offer at its best. While I lament that we were not able to better examine the cause of such horrific and senseless attacks, it has served as a shining beacon of what we can be when we come together and unite in common ground.
However short-lived, that unity is something I'm reminded of these days that I wish was more in the forefront of our minds as a nation. Even in the midst of that unity, many of us had to stand by our middle eastern and Muslim friends against violence and hatred. That said, even those who endured that persecution shared that pain: as Americans, as humans. The common ground was present even beyond such blindness.
As similar shortsightedness in terms of our common life together rears its ugly head, often even worse than back then, I am struck by a question. What might be possible if we as a nation sought to find that common ground together that we couldn't help but find that day 22 years ago? What might 9/11 remind us that we've forgotten in the wake of the turmoil and poison in our wells we've endured the past few years? What does it mean to be "One nation, indivisible, with liberty and justice for all?"
That's what makes us a community under law, citizenship, and principle. That has been forgotten in the wake of bad faith, obsession with individualism at the expense of community, obsession with communal uniformity at the expense of individual liberty, and the need to ensure that someone is demonized at all times to feel reassured in our positions.
A place to find good faith, a balance of individual and community needs, a desire to find unity where possible, and better understanding of differences in a way that supports one another: these are things that St. Anne's offers. That is why we are so necessary to this time and place, especially when we remember that these ideals are what 9/11 reminds us as our highest goals in life together. We are the pear tree in the rubble that is hanging on for dear life. We are needing to nurture the life in us so that we can bear fruit for all who come to meet us in a world where such life seemed impossible, where needless loss of Life seems to surround us.
May we be reminded of this as we pass beyond the 22nd year marking this terrible day in our history. May we share that life to ALL who seek us. May we remind others of the universal love that we commit our lives to in this family in the wider family of Abraham. "May we strive for peace and justice, respecting the dignity of every human being."
Gratefully,
Rev. Jeff