St. Anne's Episcopal Church presents: 
A String Quartet Concert by The Bayside Quartet "From Mozart to Shostakovich"
7 p.m.Saturday, December 15

Click here to see the Facebook Event
Tickets are $15.00 at the door, and light refreshments will be served after the performance.
The string quartet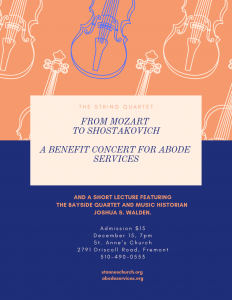 concert will benefit Abode Services, a Bay Area nonprofit group working to end homelessness in our community.
The Bayside Quartet is based at Stanford University. Each of its four musicians are former or current Stanford music students who regularly play for leading orchestras in the Bay Area, including the San Francisco Ballet, Opera San Jose, Stanford Symphony Orchestra, and the Oakland, Fremont, and Berkeley symphonies.
The Quartet will play Mozart's Quartet No. 14 in G Major, nicknamed the "Spring Quartet." They also will perform selections from Shostakovich's Quartet No. 8 in C minor.
Joshua Walden, a nationally-known music historian and member of The Bayside Quartet, will give a brief lecture about the musical history of the string quartet.
Regular Service Times:
Sunday, 10:00 a.m. Holy Communion (Child care for infants & toddlers is available)
Children's Choir at 9:30, Sunday School at 9:45 for ages 4 and up
Contact Information:
St. Anne's Episcopal Church
2791 Driscoll Road
Fremont, CA 94539
Email:  rector@stanneschurch.org
Office phone: 510-490-0553
Welcome to St. Anne's Episcopal Church, Fremont!
Wherever you are on your spiritual journey, we invite you to follow Jesus with us.
We are a community of Christians who believe that "praying together shapes believing." By worshiping together in community, we open ourselves to the Holy Spirit, receive Christ's love, and grow in faith. We welcome your questions, doubts, and wonderings about God because we are always inquiring deeper ourselves.
In our Baptismal Covenant, we pledge to "strive for justice and peace among all people, and respect the dignity of every human being." Our church is inter-generational, diverse, and a welcoming place for people of all genders and orientations.
The Holy Eucharist, or Holy Communion, is at the center of our Sunday worship service. Everyone is invited to receive at the Lord's Table. Gluten-free communion bread is available.
We are a "liturgical church," which means we follow a pattern of worship that is ancient and modern at the same time, rooted in the riches of the 1979 Episcopal Book of Common Prayer, and we also listen for the voice of the Holy Spirit as she speaks to us in the 21st century.
We are an Episcopal Church in the Diocese of California, the community of Episcopalians throughout the Bay Area, as well as the larger Episcopal Church, the American branch of the worldwide Anglican Communion.
Please visit our Facebook page, and email me with any questions you may have.
We look forward to seeing you soon at St. Anne's!
The Reverend Beth Lind Foote, Interim Rector
rector@stanneschurch.org
Office email: office@stanneschurch.org
Rector's email: rector@stanneschurch.org