Welcome to St. Anne's Episcopal Church, Fremont!
Come and join us in the journey that Jesus invites us to take: the way of love of God, love of neighbor, and love of self! St. Anne's is a place where your questions are embraced, your whole self is welcome, and differences of viewpoints and culture are what make us fully who we are. Wherever you are in your journey, this is a spiritual community worth being part of.  
Thoughts on attacks based on hate and fear: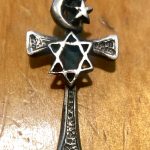 I wear a unique pendant as a necklace. At first it looks like an unusual cross. When you look closer, you discover other symbols on it: the star of David, and the Moon and Star. Intertwined, they are the three symbols of the religions that claim Abraham as ancestor: Judaism, Christianity, and Islam.
    I wear this deliberately as a Christian priest. It points to the common ground we share that unites us beyond the differences we hold. I wear it as a symbol of my commitment to the greeting we all share: "The peace of God be with you." We do not worship different Gods, we worship ONE God.
    Our sacred texts, the Tanakh, the New Testament, and the Qur'an, are broad enough scopes to become a Rorshach test for interpretation. This has led to many unspeakable acts of violence in the name of a God of peace. However, all three agree on compassion for our neighbors: those we know and love, and those we do not. We are commanded by our God to love others, to extend hospitality, and have compassion on those who wrong us.
    To commit acts of terrorism, to fundamentally deny the dignity of every human being given to them by God: these actions are the very opposite of what the prophets Moses, Jesus, and Muhammad (Peace be upon them all) convey to us from God. The terrorist actions taken by our Australian brother in New Zealand are equally as unspeakably evil as those by our brothers who took their own lives and the lives of thousands of innocent people in 9/11. The consequences of ignorance that leads to anger, the anger that leads to hate, and the hate that leads to suffering, cannot be reversed. These evils are not a Christian thing, not a Muslim thing, not a white thing, not a brown thing. These evils are because we choose not to love others as God loves us.
We can no longer live in our isolated tribes, thinking we are the best. We can no longer assume that we are all the same. We can seek to understand and love those whom we fear or do not know. We can and must ask why we are in such a time and place as this? Why in a time in which we are compelled to have the courage we are shown in scripture by our prophets? A time to have courage in order to show God's love, God's peace, to all of God's children?
    We may not find the answer to that question that defies any alternative; that's not the point. What we will discover is where the Spirit of God continues to ask us, as our Baptismal Covenant states, "to seek and serve Christ in all persons, and respecting the dignity of every human being." May that sentiment resonate deeply in all of us, whether we be religious, spiritual, atheistic, or any combination therein. For it is in that love, not belief, that God is found. May we share in the life of love ever deeper, every day, with every person we meet.
– Rev. Jeff Dodge
Not sure what the Episcopal Church is? No worries! Learn more about us here.
Regular Service Times:
Sunday, 10:00 a.m. Holy Communion (Child care for infants & toddlers is available)
Sunday School at 9:45 a.m. for ages 4 and up
St. Anne's Episcopal Church
2791 Driscoll Road
Fremont, CA 94539
Office email: office@stanneschurch.org
Rector's email: rector@stanneschurch.org
Office phone: 510-490-0553