Worship at St. Anne's
"Almighty God, to you all hearts are open, all desires known, and from you no secrets are hid:  Cleanse the thoughts of our hearts by the inspiration of your Holy Spirit, that we may perfectly love you and worthily magnify your holy Name; through Christ our Lord. Amen." Collect for Purity, The Book of Common Prayer

Worship and the Sacraments are at the heart of St. Anne's. We gather on Sunday morning to worship the Lord together and celebrate the Eucharist. When we share the blessed bread and wine, we receive spiritual food for our journey, and we are made one with Christ and with one another. In the words of the Iona post-Communion Prayer:  We emerge a people "forgiven, healed, renewed; that we may proclaim your love to the world and continue in the risen life of Christ our Savior."
Our liturgical style is ancient and modern at the same time, rooted in the ancient Anglican tradition, and our worship also moves to the rhythm of life in the Bay Area of the 21st century. We are proud of our traditional liturgy, and we are also open to new expressions of worship.
We value preaching that is thoughtful, well-researched, and relates the Gospel to our daily lives and current events.
We are a participatory and collaborative congregation—we are faithful in our service and like to be involved in all aspects of the liturgy.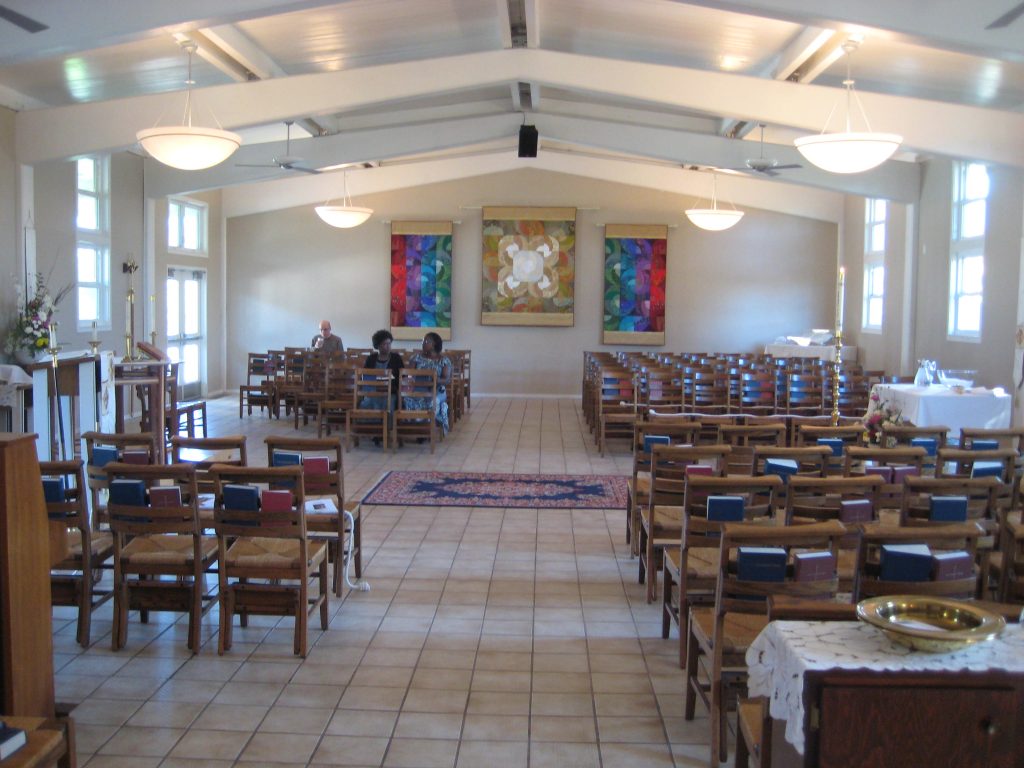 Our flexible worship space with its modular wooden altar, podium, and classic oak chairs allows for a variety of worship configurations. For Baptisms, and services during Holy Week especially, we change it up and create a more intimate worship space, with the chairs facing each other in a box formation. There are many more possibilities we haven't yet discovered!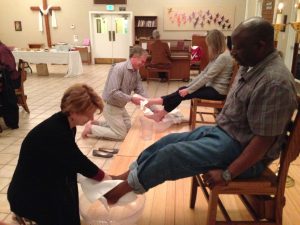 St. Anne's liturgy is drawn primarily from the Book of Common Prayer 1979, Rite II, and The Hymnal 1982. We also incorporate hymns from Lift Every Voice and Sing, and Wonder, Love and Praise. We enjoy original service music composed by our Music Director, Giancarlo Aquilanti, who is a Stanford professor and world-renowned composer.
We create and print seasonal bulletins with a weekly insert with the scripture readings.  We often sing the Eucharist, and we usually have a Fraction Anthem in addition to a Gloria and Sanctus.  During our Interim time, we're exploring Eucharistic Prayers from The Iona Worship Book, and Enriching Our Worship.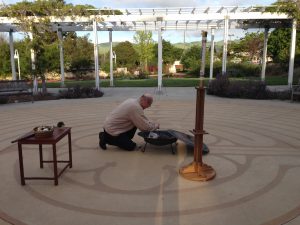 Our beautiful grounds provide a sacred space in which to begin our liturgy during Holy Week and special occasions. On Palm Sunday we begin our service at the fountain in the garden and process around the arbor, then into the church. For the Great Vigil of Easter, we kindle a fire in the middle of our outdoor Labyrinth.  On Earth Day we often begin by our stone Memorial Fountain. We value our inter-generational character and incorporate our younger members as worship leaders during the entrance rite when possible.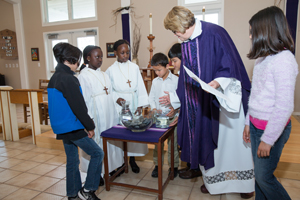 During Lent, we have opened with a Rite of Confession using Confession Stones. The children have helped lead the ritual by reading the Collect of the Day and pouring blessed water over the stones in our Baptismal Basin. The children created Alleluia! artwork which we put away in a box beneath the altar for the duration of Lent. On Easter Sunday, we opened the box and lifted up the Alleluias as we sang the Opening Hymn. In Advent, the children have led the Lighting of the Advent Wreath. They read a prayer and lit the candles, and helped read the Collect of the Day.