The first service at St. Anne's was celebrated on Easter Sunday, April 16, 1962. At first, the congregation met for worship in a public-school auditorium. Four acres of farmland were purchased in 1965, and the present church was built in 1967. Over the years, St. Anne's grew into a thriving inter-generational community with many ministries and activities, officially becoming a parish in 1990.
The Clergy of St. Anne's
The Reverend John Larson, Vicar 1962-1968
The Reverend John Luther, Vicar 1968-1978
The Reverend John Coats, Vicar 1978-1982
The Reverend Gary Collins, Vicar 1982-1988
The Reverend Cliff Blinman, Vicar 1988-1990, Rector 1990-1994
The Reverend Carol Cleland, Rector, 1994-2006
The Reverend Lauran Pifke, Rector, 2007-2015
The Reverend Stephen Trever, Rector, January 2017 to July 2018
The Reverend Jeffrey Dodge-Hogarth, February 2019 to present
Brief Recent History of St. Anne's
During the tenure of Rev. Carol Cleland, many important faith formation programs were begun, such as EFM, Godly Play, and Cursillo, all of which nurtured a deep spirituality and love of learning at St. Anne's. In 2000, St. Anne's sold a parcel of land to a developer, who built a senior residence for the deaf.  The proceeds from the sale allowed St. Anne's to remodel the church into a more flexible worship space and begin turning the garden into a sacred space.  In 2005, the full-sized outdoor Labyrinth and trellis was constructed and continues to be a focal point for the parish.
In 2007, Rev. Lauran Pifke was called as St. Anne's third Rector. Her love for The Book of Common Prayer, Interfaith dialogue, and her talent for weaving Stewardship and Christian Formation programs together throughout the year served St. Anne's well. In 2015, the Columbarium and Memorial Fountain were completed and blessed by our Bishop, The Rt. Rev. Marc Andrus. Rev. Lauran Pifke retired in July, 2015.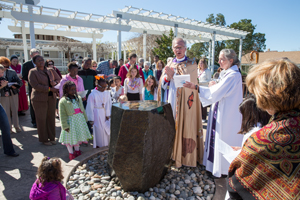 Our next Rector, Rev. Stephen Trever, served with us from January 2017 through July 2018.  At that time, Stephen's wife, Lisa, was offered a career-changing position at Columbia University.  We were anticipating many more years with Stephen and were sad to say goodbye to him and his family.  Although short, during Stephen's time at St. Anne's, we welcomed several new members, due in large part to Stephen's outreach and focus on growth.
St. Anne's is now working with its latest Rector, Rev. Jeff Dodge, who brings a fresh and exciting energy to our community. His enthusiasm for education, liturgical creativity, and reclaiming the evil "E" word, evangelism, bring continuity to the building blocks the past three rectors have set in place. His passion is to explore spiritual community from the perspective of better communication, sharing of good news stories, and ensure that as we move into the third decade of this millennium, we listen better to both our own needs and those of the community surrounding us, putting down deeper roots of love in the Fremont area.