Children at St. Anne's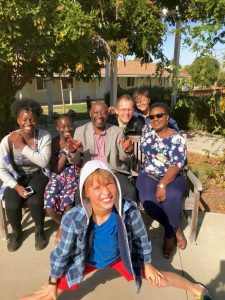 Children are active, cherished members of the St. Anne's faith community. They are not only the future of the church, they are the church today.
Children of all ages are invited to worship with their parents. We are an easy-going community that accepts and expects children to be children, and to be seen and heard.  We encourage children to play an active part in the liturgy. Most of our acolytes are children and youth. From time to time, our children lead the beginning of our worship service with a hands-on ritual and prayer.
Children's Christian Formation: "Sunday School"
St. Anne's offers a Christian Formation program for children from September through June, that meets during the Liturgy of the Word. Children return with their teachers in time for the Blessing Time, right before the Peace. Everyone on our Children's Ministry staff has completed the online anti-child abuse training course and had a background check as required by our parent organization, the Diocese of California.
Infants and Toddlers
Childcare is available in the Nursery every Sunday for infants and toddlers. Babies and toddlers are welcome to be with their parents as they prefer.
Pre-School and Kindergarteners
We offer Godly Play for children in Pre-school and Kindergarten. Based on Montessori principles, Godly Play uses a careful telling of scripture stories, engaging story figures and activities to encourage children to seek and find answers to their own faith questions. Godly Play respects the innate spirituality of children and encourages curiosity and imagination in experiencing the mystery and joy of God.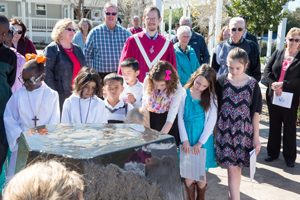 1st through 4th graders
For 1st through 4th graders, we use Weaving God's Promises, a curriculum with age appropriate passages and stories that reflect the Lectionary readings that the adults hear in church. The kids also enjoy a hands-on activity that connects with the story. The curriculum is designed so that each class stands alone to let the kids still feel involved if they miss a class.

Middle and High School
Rev. Jeff is meets monthly  with our youth on the first Sunday of the Month from 3-5pm. Our next meeting is March 1st at St. Anne's.
The 2nd Sunday of the month is the Episcopal Youth Fremont, which is a joint program with St. Jame's Fremont from 5:30-8pm. The next meeting is March 15th at St. James'.
Summer Camps in our Diocese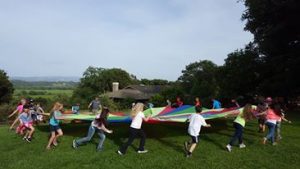 Every year several of our children attend Episcopal summer camp at St. Dorothy's Rest, a retreat and conference center of our Diocese, in Sonoma County. Summer Camp is a rich Christian Formation experience. The Bishop's Ranch also runs an Episcopal summer camp for children and youth. Scholarships are available through St. Anne's and the retreat centers.
The Playground
Our Playground is an integral ministry of St. Anne's. It is open to the public, and is always popular on Sunday mornings.